August 29th, 2006 by Hugh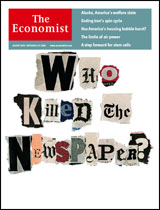 The Economist is asking "Who killed the Newspaper?" – and perhaps only a little prematurely.
Unlike the book publishing industry, which seems to be doing fine for the moment, newspapers have undergone traumatic times as they've lost their share of the advertising market, down from 36% in 1995 to 30% in 2005 according to iMedia. It's no mystery where the advertising revenues have gone: Google recently reported a 77% increase in earnings over the same period the previous year. Even worse, Craig's List offers classifieds – a mainstay of newspaper revenues – for free – and few can compete with "free." The biggest bright spot for newspapers is that visitor numbers to their online versions are growing fast.
In the UK, The Guardian has seen online revenues grow by about 50% a year, and its editor, Alan Rusbridger, has said he can see the time coming quite soon when they will outstrip print revenues. The Guardian even breaks news stories on the web, rather than holding onto them tightly for the morning edition. In response to the Economist's gloomy story, Rusbridger said:
"I think the next few years are going to be very expensive for newspapers, there is no doubt there is a decline in circulation and there is a decline in advertising revenue because both are going to the web….

"They are also going to have to spend large sums of money investing in the web and new technology. I'm not convinced that everyone is going to make it."
A big problem for newspapers is that online readers do not bring in the same revenues as commuters on the train. The Economist cites ratios ranging from 1 /10 to 1/100 for their comparative values. People tend to hop around the net, from one news-provider to another. There is also the danger that aggregators like Google News will grab revenues. Newspaper like the Guardian and The Telegraph have tried to tap the social media phenomenon with ambitious blog and podcast projects, giving readers full scope to participate and and therefore stay loyal to their sites.
Financial newspapers like the Wall Street Journal and the Financial Times have tried subscription models, which may work for specialist content – but most people have come to expect news for free: It's just another commodity. Another response is to beef up the print editions with things that don't work well online – like features and human interest, which can be more original and unique than news. My impression is that UK newspapers are well ahead of their US counterparts here, especially at the top end of the market – but still it's not enough to stop the rot.
All this adds up to a big effort by newspapers to follow the money online. Many now see the web as their future. Exbiblio is running rather counter the trend with its ideas to help publishers make paper more attractive, both to the newspaper owners and to readers. It certainly sounds like an attractive proposition to have hyperlinks on printed paper – but it has to be remembered that click-throughs bring in pennies, not mega-bucks like display ads.