September 12th, 2006 by Hugh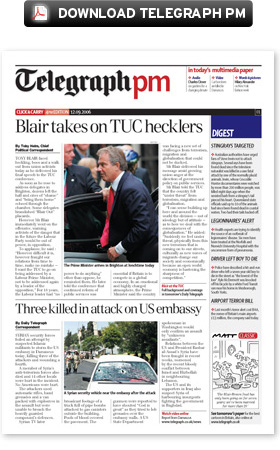 I mentioned recently that Britain's Daily Telegraph has designed its new office for the multi-media age. Now it's launched its new evening paper in down-loadable PDF format. It calls the concept "Click and Carry" and it's designed to print out on A4 so that you can run it off on the office printer and read it on the train home. If you are reading it online, you will find video and audio options, including an audio / video slideshow. Telegraph pm is published at 4pm each day. Look for it in the right column of the Telegraph's sleek website.
The Telegraph has perfectly combined the advantages of both of digital and paper – but it does so in the reverse fashion to Exbiblio. Under the Exbiblio vision, you buy the paper version, you take out your scanner pen on the train, capture some signature text, dictate some notes into the pen, and then later, when you sit down at your computer, your scanner pen takes you to the digital version. When you live in a Telegraph world, you go to the computer first, and then if you want to read it on the train, you print off a copy. You underline anything that you want to note for later with your ball-point pen. So we have two visions, each a perfect inverse of the other. Which is seeing the world the right way round? I have to admit that the Telegraph's logic has a lot to be said for it. It's the way we behave now. Many of us graze articles on the the Internet, but print longer pieces that we might want to read in depth or notate. Exbiblio is asking people to change their behaviour. Your views please….