April 11th, 2007 by Editor
by Hilary Franz
In the next week leading up to Earth Day we will be posting a list of ways that you can take action in your own life to reduce your carbon emissions footprint. These conservation technology changes if made in your life will have an impact on cutting carbon emissions. But as I stated in my last blog, what is also needed is bold leadership from Washington D.C. to drive the large scale changes needed to stave off the the catastrophic effects of global warming. To this end, we urge everyone to take the first step towards reaching Congress by participating in Step It Up 2007 this Saturday, April 14!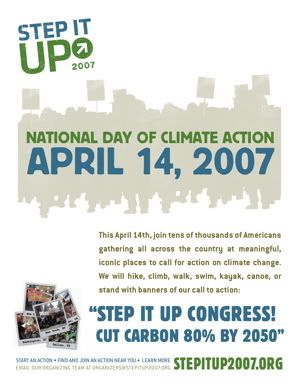 What is Step It Up? Step it Up is a National Day of Climate Action! This Saturday, April 14, every citizen of the United States who is concerned about the issue of global warming has the opportunity to tell Congress and the Nation to start taking steps to slash the energy consumption and reduce emissions of the pollutants that cause climate change. All over the United States, over 1300 actions have been organized by people coming together on the issue of global warming. Americans are gathering all over the country in places like the top of the Grand Teton, underwater off Hawaii's coral reefs, on the levees above the Ninth Ward, along a blue line on Canal Street in Manhattan that marks the city's possible new beachfront, and also at the local park, local church and on the streets of small towns. And everywhere they will be saying that it is finally time for the United States federal government to take serious action on the biggest environmental and social problem our world has ever faced. There will be thousands of people, from various backgrounds with a single message: For Congress to put America on a course to cut carbon emissions 80% by 2050.
We will be marching in our local Step It Up Rallies here in Seattle and surrounding communities, and we urge you to join us. To join us take the next step:


Go to the Step It Up website – StepItUp.org

Find the Step It Up rally nearest you. If you don't have a Step It Up rally near you, forward an email to as many people as you know and think might act and sign up to host a rally – It is not too late!

Attend the Step It Up rally nearest you.

Join us! You will be part of something absolutely amazing – a grassroots coming together to march, to gather, and to call for a real commitment for real change.
We look forward to seeing all of you on April 14th at the Step It Up Rally!