November 16th, 2006 by Hugh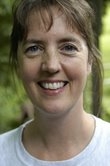 Exbiblio has recruited an evangelist for its oPen hand-held scanner due out next year. Her name is Brydie Ragan.
Brydie's career resume made quite an impression at Exbiblio. Her many achievements include developing the East Coast Sales channel for Aldus Corporation, where she managed strategic co-marketing relationships with Apple, IBM, and numerous computer dealers.
Later she helped set up the design and communications firm, Bridgemark, but as you see from this extract from her resume, her interests range far and wide and include Exbiblio's passion for social responsibility. She is a true "Exbiblio" person.
During my years as co-owner of Bridgemark, I made a personal commitment to social responsibility. Two of my first steps included joining one of the first Community Supported Agriculture farms in America and living without a car in a small city that had no public transportation. In addition, I also became a mentor for Project Soar, a program for women on welfare who were starting entrepreneurial endeavors.

I also decided to heed Thomas Jefferson's advice to practice "eternal vigilance." I started by making a commitment to attend all of our city council and school board meetings for one year. After sitting through the first city council meeting (for over four hours), an elderly council member approached me and asked, "Oughtn't ya be home with ya husband at night?" I will never forget his question, which I now see as the deciding moment that marked the beginning of my deeply-ingrained habit of civic involvement.

During my years as a citizen activist, I have become involved in many issues, including land use and planning, affordable housing, and education. I have attended countless public meetings, conducted research, and written and designed reports, press releases, fliers, and newsletters for many causes and citizen projects, suffering through my failures and delighting in my successes.

In addition to my volunteer work, I incorporated activism into Bridgemark's business by designing, producing, and distributing a kit for refusing junk mail. I succeeded in selling thousands of kits nationwide with virtually no advertising because I was able to gain national publicity. Substantive articles about the kit appeared in the Christian Science Monitor and in many major city newspapers, prompting stores such as Urban Outfitters, the Boston Museum of Science, and Ben and Jerry's company store to retail the product.

My effort to reduce junk mail also resulted in invitations to speak publicly about the effort. One of my most memorable speaking engagements was at Dartmouth College, where I enjoyed a meal with the Club of Rome author, Donella Meadows. Luckily, public speaking had been an integral part of all of my work as a professional, so I thoroughly enjoyed this opportunity,and others like it, to generate interest in the issue as well as sales of my product.