September 1st, 2006 by Adam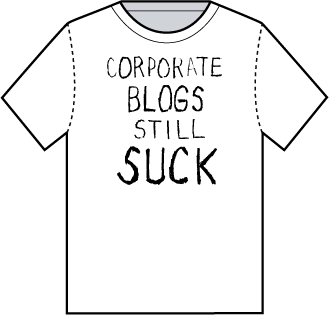 I came across this shirt the other day proclaiming that "Corporate Blogs Still Suck." It made me laugh, but then it made me think… Do they?
In the 50 or so blogs that I read on a daily basis, there are very few "corporate" blogs though there are quite a few blogs of interesting people who have started small software companies. Probably the most corporate blog I follow is the Direct 2 Dell Blog.
I think most of the time, the Dell blog doesn't suck. I'm wouldn't consider myself a Dell fan, but I'm not a hater either. I admire their mastery of the supply chain process and have bought a few Dells over the years. It is amazing how quickly and inexpensively they can put together and deliver a completely custom machine. I have also had good experiences with their customer support the few times that I have needed to call.
I'll admit that part of the reason the Dell blog is fun to watch is that they got completely slammed by negative comments in the first few posts. Turns out that there is a lot of pent up frustration aimed at Dell, and some of the early posts seemed canned and readers let out their steam in the comment section.
I admire the folks running the Dell blog though because they have stuck it out and have been evolving the blog into more of a conversation and less of a brochure blog. Not that it is perfect yet, but you can tell that they are really trying to get it right.
I'm wondering what your favorite corporate blogs are and whether you think that corporate blogs, in general, still suck. If you think they do, what needs to change so that they don't? Please comment!